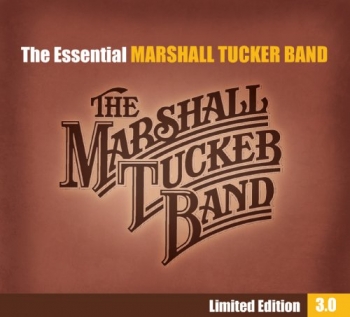 (Shout! Factory)
I remember a time back the mid 1990s when the whole internet thing was just beginning to catch on. I was among the members of a small group of fans online that were building tribute pages to The Marshall Tucker Band. We all came together with our common love of the good ol' boys from my home town of Spartanburg, SC, and on Thursday nights we would all meet up in a MTB chat room while E.R. was on the T V.

In those days, we would all chat about our common dreams, like seeing the long shelved Stompin' Room Only released, or the Warner Brothers releases, especially Runnin' Like The Wind. We dreamed of the day we could buy live concert video from the original lineup of Doug Gray, Toy and Tommy Caldwell, George McCorkle, Paul T. Riddle and Jerry Eubanks. Then came Shout! Factory and Ramblin Records just a few years ago, and Carolina dreams began to come true one after another.
Now, yet another dream has manifested itself into reality. The long bootlegged 1973 set from Winterland with an introduction by Bill Graham. It's a short set, but just awesome. And the remastering really made it pop. I get a real kick out of hearing Tommy introduce the songs, and Toy singing "Hillbilly Band." Then there are classics like "Another Cruel Love," "See You Later, I'm Gone," "Ramblin," and of course "Can't You See." It is a real smoker from the earliest days of a band that is now into their 37th year and still going strong, even after the tragic deaths of three of the original members. I guess you can't keep a good band down.

Of course, the Winterland set is actually just one small part of this massive three-disc set that collects many of the band's best loved Paul Hornsby produced tracks from their Capricorn Records days.

There are 22 tracks on the first two discs, including their biggest hits "Fire On The Mountain," "Heard it in a Love Song," "Searchin for a Rainbow," "Can't You See," and my personal favorite, "This Ol Cowboy."

There are more live tracks, including "The Thrill is Gone" from Stompin Room Only, "24 Hours at a Time," "Everyday I Have The Blues," (with Toy Caldwell blazing across the fret board) and "See You One More Time."

The Tucker just keeps on coming with the Grammy nominated instrumental "Long Hard Ride," "Virginia," "Bob Away My Blues" and the the beautiful acoustic tune "Asking Too Much of You."
The set is rounded out with "Take The Highway," "Hillbilly Band," "A New Life," "Windy City Blues," and more. The title of the collection is pretty much perfect. This really is the "essentials," taken from their vast back catalog, and topped off with the never before released Winterland live set. It's an excellent primer for new fans and a wonderful addition to the music library of us old school MTB fans. Buffalo says "check it out."

-Michael Buffalo Smith
You can check out the full article here, and buy the CD here!